Her unique hobby is chasing hot air balloons. In other words, she chases them all the way from lift-off to landing and she is always there to greet the passengers with a smile. For Donna, being where the balloon lands, when it lands, is a puzzle that Donna carefully assembles as she calculates every turn of the street corner, carefully estimating both wind velocity and direction. For this local business woman and astute problem solver, seeing the big picture and then helping people carefully plan out every step is only part of the fun.
Rising to the Occasion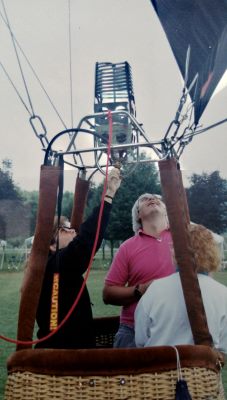 For Donna, it's easy. She has always had a knack for strategizing and executing plans, whether in her career or just for fun. Simply put, she loves being a problem solver. From hot air ballooning over the majestic plateaus of the Colorado landscape to journeying to parts unknown on her motorcycle or merely enjoying a yoga class, she puts careful thought and invested energy into whatever she's s doing.
A Guide for Life
For Donna, her analytical mind has reaped rewards for her all her life. Growing up on the east coast, she provided management consulting services on information systems for various corporate firms. One of which was New Jersey based Polo Ralph Lauren, in which her task was developing optimal strategies and then implementing them for improved efficiency. As she methodically assisted clients with their important decisions, it was important to Donna that they were able to see each detail and every step, consequentially leading up to the overall big picture.
Your Path to Success
Nowhere else is Donna as passionate and driven to plan out each move in order to reach a positive conclusion than when she is assisting her clients with their real estate needs. As one of the area's leading real estate professionals, she works hard to guide you through the complex process of buying or selling a home. With meticulous fervor, technical knowledge and local market expertise, Donna strategizes and executes effectively, obtaining winning results. All of which leaves clients feeling assured they're making the right decisions. As a committed professional, Donna's passion for her craft and her ambitious drive for perfection makes the process smooth and stress-free.
Realizing Your Dreams
For home sellers, Donna goes out of her way to develop the most extensive marketing plan to gain maximum exposure for your home sale. Having her finger on the pulse of the market, she focuses on all aspects and covers every detail ensuring consistent results for you.
For home buyers, Donna's in-depth knowledge of the home buying process, financing options and inventory of homes for sale is a distinct advantage. She makes it a point to keep you informed and up-to-date on all the latest happenings.
When it's time to buy or sell a home in the Colorado Springs area, count on Donna to help you Achieve Your Goals and reach new heights. Let your dreams take flight. Call Donna today 719.330.8531!