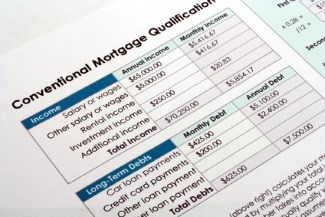 How much house you can afford is determined by your monthly payments on long-term debts (those that will take more then 10-12 months to pay off). The total of your monthly payments on long-term debts PLUS your proposed mortgage payments including taxes, hazard insurance and Home Owners Association Fees should not be more then 36% - 40% of your gross monthly income. In some cases lenders will let you go higher then 40% but not in all cases. This percentage is called your debt to income ratio.
Financing Your Home
Pre-Qualification
A lender can normally pre-qualify you for a mortgage in a short 15-20 minute phone call. By getting pre-qualified for a mortgage, you will have an idea of the estimated monthly payment and a price range to shop based on the loan size. This information is a guide for you in the home buying process and does not guarantee mortgage approval. Before looking at the myriad of homes for sale in Colorado Springs and Woodland Park, you should at a minimum be pre-qualified. This way you don't fall in love only to have your heart broken. And, when you write an offer sellers will expect a pre-qualification letter.
Pre-Approval
Being pre-approved for a mortgage may afford you more leverage in negotiating the purchase of a home. Mortgage pre-approval requires completing a formal application to the lender, and submission of all the necessary financial and employment documentation. Once the information has been evaluated, verified by the lender's underwriters and approved, you will be cleared for a loan of a determined amount. This process, due to the recent tightening of the credit market, can take longer than in previous years. Your home search, though, will be a much more enjoyable experience knowing that you can shop with the confidence knowing that you are pre-approved!
When purchasing a home you want to make sure that you buy within your means so that you are not house poor. If you would like help determining how much home you can afford, contact us today for a complimentary session with one of our experienced Colorado Springs or Woodland Park Area Realtors and a Preferred Lender who will review your situation and make suggestions and recommendations that will work best for your unique circumstances